Bean bags are are such a fun, versatile and attractive way to provide seating at weddings and events. At Every Event Hire we stock a great range of white bean bags, coloured bean bags chairs, and coloured bean bag cubes, to suit every style and taste.
Our white beanbags are perfect for weddings, and they look beautiful whether carefully arranged on formal lawns, scattered amongst the sunny flowers, or nestled in a cosy corner of a marquee. They can be moved about easily as required during your day, which comes in very handy in our ever changing British weather. Our beanbags are very comfortable to sit on, as they mould to fit the body, ideal for relaxing with a drink. They create fab photo opportunities for gorgeous dresses, fun seats for the little ones to tumble over, and a welcome relief for older bones.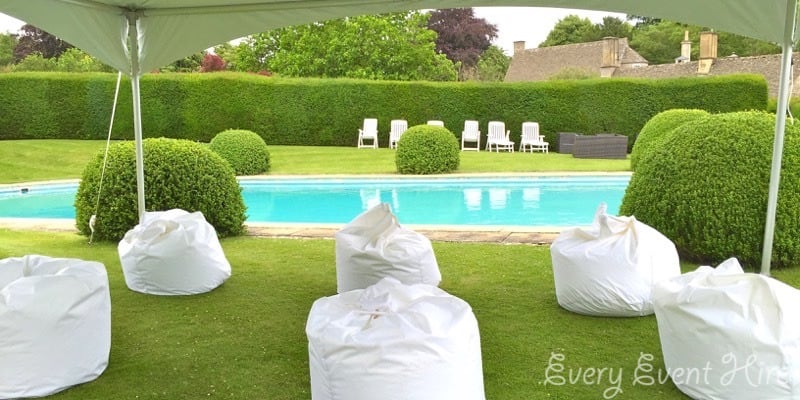 We also hire lots of coloured bean bags for parties and corporate events. We have a range of colours in larger chair and smaller cube styles, and stock the large quantities needed for bigger gatherings. Our bright bean bag cubes and comfy bean bag chairs can be ordered to match your party theme, or company colours, to perfectly personalise your event. They are bright, high quality, and sturdy, and work fantastically at conferences, fetes, outdoor performances, or anywhere were you are looking for an eye catching, memorable, and very comfy way to seat your guests.
Great for lounging in chill out areas, somewhere fun for the kids, or just a more funky alternative to traditional seating.